Welcome to Our Website
We are FAITH
We are a Christian community. Faith Church is a place of worship where prayers ascend, blessings descend, healing takes place, and peace, love and fellowship abide.
You are invited to visit or join our family

We have reached our goal!!
Our Mortgage Burning Event is

May 31st and June 1st

Make a donation to the Mortgage Liquidation
via Faith Online Giving or
make a pledge/donate via Faith Online Giving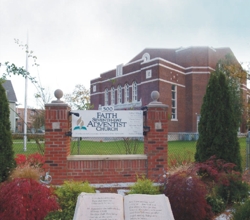 Schedule of Services
First Praise Service:
Saturday @ 9:00 a.m.
Divine Worship:
Saturday @ 11:00 a.m.
Adventist Youth Society:
Saturday @ 5:30 p.m
Prayer Meeting:
Wednesday @ 7:00 p.m